Overview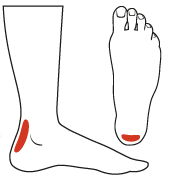 The Achilles tendon connects the muscles in the back of your calf to your heel bone. There are two basic variations of Achilles injuries. Achilles tendonitis, and a complete tear. It?s important to know whether the Achilles is torn or not, because the treatment is very different, a torn Achilles may require surgery. Achilles tendonitis probably means rehab and rest. While tendonitis is a gradual onset of pain that tends to get worse with more activity, an Achilles tear is a sudden injury, and it feels as if you were hit or kicked in the back of the ankle. A tear usually affects your ability to walk properly. Because an Achilles tendon rupture can impair your ability to walk, it?s common to seek immediate treatment. You may also need to consult with doctors specializing in sports medicine or orthopaedic surgery.



Causes

Often the individual will feel or hear a pop or a snap when the injury occurs. There is immediate swelling and severe pain in the back of the heel, below the calf where it ruptures. Pain is usually severe enough that it is difficult or impossible to walk or take a step. The individual will not be able to push off or go on their toes.



Symptoms

Ankle pain and swelling or feeling like the ankle has ?given out? after falling or stumbling. A loud audible pop when the ankle is injured. Patients may have a history of prior ankle pain or Achilles tendonitis, and may be active in sports. Swelling, tenderness and possible discoloration or ecchymosis in the Achilles tendon region. Indentation above the injured tendon where the torn tendon may be present. Difficulty moving around or walking. Individual has difficulty or is unable to move their ankle with full range of motion. MRI can confirm disruption or tear in the tendon. Inability to lift the toes.



Diagnosis

Your doctor diagnoses the rupture based on symptoms, history of the injury and physical examination. Your doctor will gently squeeze the calf muscles, if the Achilles tendon is intact, there will be flexion movement of the foot, if it is ruptured, there will be no movement observed.



Non Surgical Treatment

Your doctor may advise you to rest your leg and keep the tendon immobile in a plaster cast while it heals. Or you may need to have an operation to treat an Achilles tendon rupture. The treatment you have will depend on your individual circumstances, such as your age, general health and how active you are. It will also depend on whether you have partially or completely torn your tendon. If you have a partial tear, it might get better without any treatment. Ask your doctor for advice on the best treatment for you. If you need pain relief, you can take over-the-counter painkillers such as paracetamol or ibuprofen. Always read the patient information that comes with your medicine and if you have any questions, ask your pharmacist for advice.






Surgical Treatment

Surgery is the most common treatment for this condition. An incision is made in the lower leg and the tendon is sewn back together. A cast, splint, walking boot, or brace is worn for 6-8 weeks. One of the benefits of surgery is that it lowers the risk of re-rupturing the tendon. Surgery may also be a better option if you are athletic.



Prevention

To prevent Achilles tendonitis or rupture, the following tips are recommended. Avoid activities that place an enormous stress on the heel (for example, uphill running or excessive jumping). Stop all activity if there is pain at the back of the heel. If pain resumes with one particular exercise, another exercise should be selected. Wear proper shoes. Gradually strengthen calf muscles with sit-ups if prior episodes of Achilles tendonitis have occurred. Always warm up with stretching exercises before any activity. Avoid high-impact sports if prior episodes of Achilles tendon injury.